NOTICE
If you have a fever of 37° or higher within a week, a sore throat, symptom of a cold, or a strong dullness, please do not come directly to our hospital and make an appointment for a fever outpatient at our hospital. Please fill out the preliminary interview below before your appointment. After confirming your preliminary interview ,we will reply to you by email with appointment time for the examination. You will be examined in a separate room from other patient. After reviewing your preliminary interview, you can take a PCR test for coronavirus and Influenza antigen test. The results are available within 15 minutes. The cost of the examination is about 6,000 yen with 70% covered by the health insurance card. Never enter through the our clinic front door. When you come to our clinic, please enter the dedicated entrance for fever outpatients on the left side of the main entrance by the telephone pole. And press the intercom when you arrive at the entrance. Do not enter the entrance until instructed.
New coronavirus infectious disease information
Tokyo Coronavirus Support Center for Foreign Residents
Phone 0120-296-004 (weekdays 10-17:00)
SERVICES
General Internal Medicine, Gastrointestine, Pediatrics
| | | | | | | | |
| --- | --- | --- | --- | --- | --- | --- | --- |
| | Mon | Tue | Wed | Thu | Fri | Sat | Sun |
| 09:00-12:30 | ◯ | ◯ | ◯ | – | ◯ | ☆ | – |
| 15:00-18:00 | ◯ | ◯ | ◯ | – | ◯ | – | – |
☆Sat 9:00-14:00
Only Director KAMADA is able to see a foreigner patient. Check below doctor's schedule.
Closed: Thursdays, Sundays, National Holidays.
Doctor's Schedule on saturday
Nov.18: Dr YAMAGUCHI
Nov.25: Dr ISHIMOTO
Dec.16: Dr YAMAGUCH
Dec.23: Dr ISHIMOTO
Jan.20: Dr YAMAGUCHI
Jan.27: Dr ISHIMOTO
Feb.17: Dr YAMAGUCHI
Feb.24: Dr ISHIMOTO
Mar.16: Dr YAMAGUCH
Mar.23: Dr ISHIMOTO
the other days: Director KAMADA
Other Services
Degital X-ray
Helical CT scan
Bone density test
Abdominal ultra sound test
Cervical thyroid grand echo test
Cardio echo test
Gastroendscopy
ECG, Holter ECG, Ergometer ECG
Spairatory function test
Sleep apnea polygraphy test
ACCESS MAP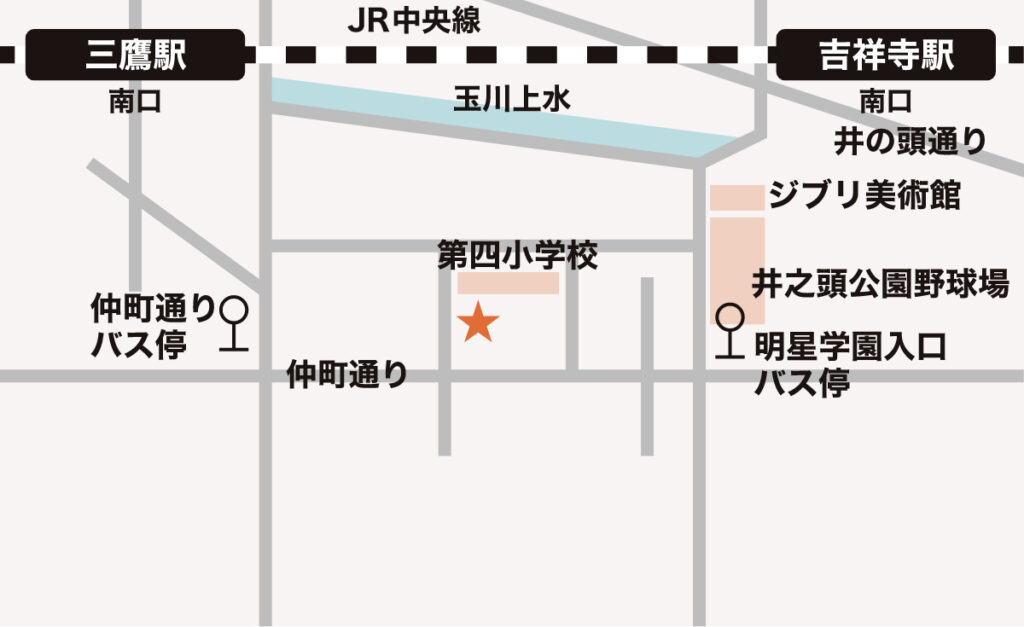 Address: 1-30-12 shimorenjyaku, Mitaka-shi, Tokyo, Japan
三鷹市下連雀 1-30-12 鎌田医院
 Phone 0422434621
The near station
●From Kichijyoji sta. Kouen guchi(south exit) (JR Chuou line)
Take a bus on the street in front of Marui department store. Get off 4th bus stop (Myoujyou gakuen iriguchi). Walk same direction, turn right next signal. And 2 min walk, turn right next pedestrian crossing, you will see clinic on the right hand side.
●From Mitaka sta. Minamiguchi(south exit) (JR Chuou line)                         Take a bus (Odakyu bus). Get off second bus stop (Nakamachi dori). Walk in the opposite direction, turn right next light. and 2 min walk, turn left next pedestrian crossing, you will see our clinic on the right hand side.
●Taxi
Tell the driver "shimorenjyaku 1-30-12 KAMADA iin " or show the driver "下連雀 1-30-12 鎌田医院" It takes about 8min from Kichijyoji or Mitaka sta. in first or second meter fee.
●Parking 3 cars
If you have car navigation, put phone number 0422434621 in. You can find our clinic.
Reservations
As a general rule, any tests are by appointment only.
Please send us e-mail with any questions or to book an inspection. Please fill out the below interview in advance.